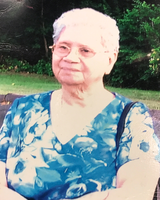 Paula Osorio - Escobar
Paula Osorio Escobar, 86, of Vineland, NJ passed away on Monday, March 20, 2017 at her home after a brief illness. Paula was born on April 29, 1930 in Rio Grande, PR to the late Benito Osorio and Generosa Escobar.
Paula was a beloved wife, mother, sister, and grandmother. She loved spending time with her family. She would often come to visit them from Puerto Rico before coming to reside in Vineland. She will be forever missed by many.
She is predeceased by her husband Pantaleon Nieves, 4 sisters, and 1 brother.
Paula is survived by her daughters, Marta Morales and Carmen Baez; her son, Carlos Pizzaro; her grandchildren, Carmen L Baez-Piatt (Wayne) and Jonas Almodovar (Ashley); great-grandchildren, Jasmarie and Joshua Baez, Gisselle and Gabrielle Rodriguez, Alexsia, Lailya, Caleb, and Xander Almodovar; great-great-grandchildren, Jeremiah Baez and Jayden Reyes; along with many nieces and nephews.
Family and friends will be received on Tuesday, March 28th from 9am to 11am with a service at 11am at DeMarco-Luisi Funeral Home, 2755 S Lincoln Ave., Vineland, NJ. Paula will be laid to rest at Sacred Heart Cemetery, Vineland. Memories, thoughts and prayers may be extended to the family by visiting dlfuneral.com.