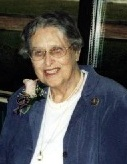 Catherine Uebelacker
Catherine J. Uebelacker (nee Botterill) passed away at the New Jersey Veterans Memorial Home on March 29, 2017. She was born in Vineland on December 1, 1919 to the late Robert and Catherine Botterill. Catherine graduated from Vineland High School in 1938. She grew up attending Pilgrim Congregational Church and then joined Memorial Presbyterian Church in the early 1980's. She worked at the Training School in Vineland and also worked as a bookkeeper for Unsworth Motor Co. in Vineland. At one time she and her father operated "Botterill's Gift Shop" in Vineland.
She married Andrew, the love of her life, in 1948. Catherine was a loving daughter, mother, grandmother, great- grandmother, sister and aunt. She was very active in church work, and was a Girl Scout Leader. Catherine was an excellent cook. She enjoyed gardening and traveling and loved celebrating special occasions and holidays with her family.
She is predeceased by her husband, Andrew and her son, Douglas C. Uebelacker.
Catherine is survived by her son, Robert Andrew Uebelacker and wife Vivian (Biagi); daughter, Jane (Botterill) Uebelacker; grandsons, Robert Douglas and wife Janet and great grandson , Joseph Anthony Uebelacker, Ryan Andrew and wife Alisha and great granddaughter, Mia Grace Uebelacker, her sister, Eva Mary Gifford; sister-in-law, Gerry Uebelacker; brother–in-law, Craig and his wife Wilma Uebelacker; nephews, James and Kathy Uebelacker, Jay and Patty Gresimer; nieces, Tammy and Roy Price, Linda and Tom Bradshaw, Rose and Al Stratton, Cindy and Jeff Rimbey, Carolyn and Tom Woolaway, Lorrie Duda, Cathy and Bob Smith, Nancy and Paul Lokey and all of their families.
She will be dearly missed but she is with her Lord, her beloved Andy and her beloved son Douglas.
Funeral services will be held on Saturday at 10am at DeMarco-Luisi Funeral Home, 2755 S. Lincoln Ave., Vineland. Catherine will be laid to rest at Siloam Cemetery, Vineland. Family and friends will be received on Saturday from 9am to 10am at the funeral home.