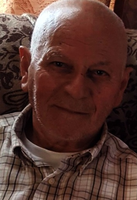 Efrain Rivera Cortes
Efrain Rivera, 80 of Vineland, passed away on Saturday, April 15, 2017 at home surrounded by his family after a long and courageous battle with cancer. Born in Utuado, Puerto Rico he moved to Bridgeton in 1954 and then to Vineland in 1961.
Efrain was a farm laborer for most of his life. He also worked for the City of Vineland road department and retired from Progresso Foods.
He was an active member of the Divine Mercy Parish, and the Cursillo, Vineland. Efrain would visit the sick and the elderly and loved to walk everywhere, taking care of his pets and gardening.
He is predeceased by his parents, Francisco Rivera and Angela Cortez; step-daughter, Margarita Bermudez and 3 brothers, Hector, Dionisio and Epifanio Rivera.
Efrain is survived by his wife of 49 years, Antonia (Salva) Rivera; 10 step-children, Angel, Irma, Jose, Benjamin, Luis and Rene Bermudez, Migdalia and Doris Mercado, Madelyn Salva and Edith Santiago; 3 brothers, Hanibal, Raul and Miguel Rivera; 3 sisters, Hilda Martinez, Carmen Stuart and Teresa Rivera and many grandchildren, great grandchildren, great great grandchildren, nieces and nephews.
A Funeral Liturgy will be celebrated on Thursday at 10am at Divine Mercy Parish, St. Francis of Assisi Church, 23 W. Chestnut Ave., Vineland. Efrain will be laid to rest at Sacred Heart Cemetery, Vineland. Family and friends will be received on Wednesday evening from 6pm to 8pm at DeMarco-Luisi Funeral Home 2755 S. Lincoln Ave., Vineland and again on Thursday morning from 9am to 9:45am at the CHURCH. Memories, thoughts and prayers may be extended to the family by visiting dlfuneral.com.