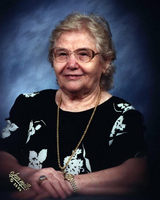 Teresa Bovenzi
Teresa (Sorgente) Bovenzi, 85 of Vineland passed away on Monday, April 24, 2017 at home surrounded by her family.
Born in Cellole, Italy Teresa enjoyed cooking and was known for her famous Italian bread and Sunday family dinners. She loved traveling back and forth to Italy to her home and spending time with her children and grandchildren.
Teresa was known for her famous saying to all, "I Love You".
She is predeceased by her husband, Michele Bovenzi; son, Giovanni; granddaughter, Vincenza Deserio and son-in-law, Kenneth Andaloro.
Teresa is survived by 5 daughters, Maria (Frank) Sieri, Antoinette (Lino) Cicillini, Ernestine "Ernie" (Frank) Deserio, Lucy (Pete) Bruno and Rose Andaloro; 1 brother, Costandino Sorgente; 2 sisters, Congetta and Amalia Sorgente; 22 grandchildren and many great grandchildren.
Funeral services will be held on Saturday at 11am at DeMarco-Luisi Funeral Home, 2755 S. Lincoln Ave., Vineland. Teresa will be laid to rest at Siloam Cemetery, Vineland. Family and friends will be received on Saturday morning from 9am to 11am at the funeral home. Memories, thoughts and prayers may be extended to the family by visiting dlfuneral.com.