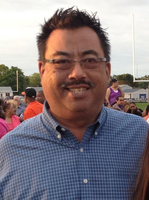 Anthony M. Zee
Anthony Michael Zee, 60, of Vineland, NJ, formerly of Millville, passed away suddenly on April 21st, 2017.
Anthony was born in Kowloon, Hong Kong, the eldest son of Michael T. and Emily (Wong) Zee, on February 10th, 1957 and was a proud graduate of the King George V School. At age 11 he immigrated to the United States with his family. He graduated from Millville Senior High School in 1974, attended Rutgers University and Drexel University and then moved on to work as a Manager for Wheaton Industries, Heritage Industries, and later Dorchester Industries. Most recently, he worked as an IT Specialist for the Millville Board of Education until he retired due to his declining health.
Tony enjoyed travel, golf, photography, attending Royal Military Tattoo Performances, spending time with his family, and playing with his two dogs, Ozzy and Maisie.
Anthony was preceded in death by his mother, Emily Zee (Wong) in 1968, and by grandparents, Peter S. D and K. M Chu Zee and Thompson and Veronica Wong.
Anthony is survived by his two children, Jeremy Zee (fiancé Amanda Pierce) of College Park, MD, and Emily Zee of Millville; parents, Michael T. Zee and Margaret M. Zee of Collegeville, PA and Hilton Head, SC; brother, Eric Zee (Hilary) of Malvern, PA; and sister, Andrea McGarr (Rae) of Phoenixville, PA; one niece, Alli McGarr, along with an Aunt, Uncles, and several dear cousins.
Visitation for relatives and friends will be held at the DeMarco-Luisi Funeral Home 2755 S. Lincoln Ave, Vineland, NJ on Friday, June 2nd from 5-7pm with a Memorial Service to follow from 7-8pm. Interment at Greenwood Memorial Park will be private. In lieu of flowers, donations in Anthony's name can be made to the National Kidney Foundation, Inc., 30 East 33rd Street, New York, NY 10016.