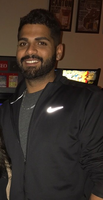 Rishi R. Singh
Rishiraj "Rishi" Singh, 23 of Millville, NJ passed away on Monday, September 4, 2017.
Rishi was preceded in death by his father, Rajinder Singh and is survived by his mother, Neena Oberoi; brother, Rivraj Sachdeva; sister, Simm Sachdeva-Herbst; brother-in-law, Greg Herbst; niece, Hennah Herbst and many aunts, uncles, cousins and friends.
He truly lived each day to the fullest, and always with a smile on his face. He loved being around friends, fishing, riding dirt bikes, snowboarding or just hanging with family. Rishi will be greatly missed by family and friends. Anyone would be proud to call him a son, brother, uncle, nephew, cousin or friend. We are all blessed to have had him in this life and will continue to cherish his memory and the life he lived. Rishi lived everyday to the fullest and to honor his memory he would want everyone to do the same.
Funeral services for Rishi will be held on Saturday, September 9, 2017 at DeMarco-Luisi Funeral Home, 2755 S. Lincoln Avenue, Vineland, NJ from 4pm to 6pm.