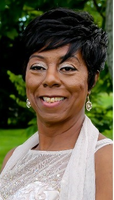 LaVerne Gunter
LaVerne (Ford) Gunter was born on January 29, 1955 to Theodore Ford and Edna Blackwell in Richland, NJ. She went home to be with the Lord on Friday, September 8, 2017. LaVerne was a life-long resident of Richland, NJ.
She was a member of Freedom Church Worldwide. LaVerne was employed at Buena Vista Township for over 23 years. She was an ordained minister and loved telling people about the Lord.
She enjoyed dancing, outreach, vacationing and studying the Word of God. Most of all, she loved spending time with her family.
She was predeceased by her brothers, Bishop Felton A. Blackwell and Charles Ford.
LaVerne is survived by her daughters, Michelle Spellman (Christopher) and Monique Horne (Gregory); her sons, Clarence M. Gunter (Andrea) and Kevin M. Gunter, all of Vineland, NJ; her siblings, Teddy Ford, Beverly Ford, Lambert Ford, Antoinette Ford, Barry Ford (Mable), Theodore Ford and Tina Ford; sister-in-law, Frances Blackwell; her soul surviving aunt, Elaine Blackwell; her grandchildren, EJ Pettus, Briana Pettus, CJ Gunter, Jordyn Horne, Julyan and Jonathyn Horne and one in the bun; a host of nieces, nephews, cousins, extended family, church family and friends.
She will truly be missed by all.
Funeral services will be held on Saturday, September 16, 2017 at 11am at DeMarco-Luisi Funeral Home 2755 S. Lincoln Ave., Vineland. LaVerne will be laid to rest at Lincoln Memorial Park, Mays Landing, NJ. Family and friends will be received on Saturday morning from 9am to 11am at the funeral home.