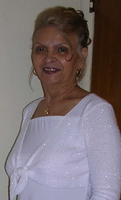 Maria Viruet
Maria C. Viruet, 74 of Vineland passed away on Sunday, September 17, 2017.
Born in Utuado, Puerto Rico, she worked for DeRossi Clothing Company, Lincoln Specialty Care Center and Santa's Best.
Maria loved spending time with her family and enjoyed cooking, going to the casinos, gardening and having yard sales.
She was predeceased by her parents, Maria "Conchita" (Andujar) Gonzalez, Ramon Viruet and Ismael Gonzalez; her son, Emilio Narvaez; brothers, Johnny Andujar, Harry, Gaspar and Louis Viruet and sister, Marina Galaraza.
Maria is survived by her children, Luis "Pinito" Rodriguez, Nelson Rodriguez (wife Damari), Elois Rodriguez (wife Cheryl), Maria "Elena" Rodriguez (Fiance Basilio); 9 grandchildren, Ann Marie, Andre, Jalena, Alberto, Luisito, Jacqueline, Jessica, Steve and Shawn; 5 great grandchildren, Isiah, O'Thaniel, Lamirah, Andre and Azuri; her siblings, Carmen D. Rill, Angel Viruet, Lillian Rivera, Eddie and Jorge Andujar and several nieces and nephews.
A Funeral Liturgy will be celebrated on Monday at 10:30am at Divine Mercy Parish, St. Francis of Assisi Church, 23 W. Chestnut Ave., Vineland. Maria will be laid to rest at Sacred Heart Cemetery, Vineland. Family and friends will be received on Sunday evening from 6pm to 8pm at DeMarco-Luisi Funeral Home 2755 S. Lincoln Ave., Vineland and again on Monday morning from 9am to 10:15am at the CHURCH. Condolences, memories, thoughts and prayers may be extended to the family by visiting dlfuneral.com.