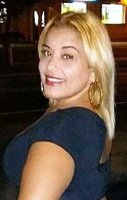 Talisa L. Colon
Talisa Lillian "Nena" Colon, age 23, passed away on Saturday, September 16th, 2017. She was born July 25th, 1994 in Vineland, NJ to Gilbert Colon Sr. and Magdalena "Maggie" Arroyo.
Nena was best known for her vibrant, wild, and bold personality, contagious laugh and beautiful smile. She loved spending time with family and friends and she never missed a family function. She had dreams to become a nurse's aide to work with handicap children and adults like her Aunt Lisa. Nena will be greatly missed by everyone that knew her. She was the life of any party, she gave the best hugs, and she had a heart of gold.
Nena is survived by her parents, Gilbert Colon and Maggie Arroyo; her siblings, Gilbert Colon Jr. (Fiancé, Idalis Camacho and Daughter, Skylynn Mia), Marquise Colon, Giovanni Colon, Gillianni Colon, Gyanalise Colon, Liam Colon, Priscilla Nazario and Nyashia Clavell; all of Vineland, NJ. She also leaves her maternal grandparents, Jose and Elsie Arroyo of Vineland; Maternal Aunts, Mayra Arroyo and Elisa Arroyo; Paternal Aunts, Jasmin Calderon and Carmen Perez; Paternal Uncles, Joe Colon and Michael Perez; her beloved dog, Princess Marie; and many cousins from both maternal and paternal side.
She is predeceased by her paternal grandmother, Lillian Colon; her paternal Aunt, Luz "Nelly" Colon; and Paternal Uncle, Paulie Colon.
A Funeral Liturgy will be celebrated on Friday at 10:30am at Divine Mercy Parish, St. Francis of Assisi Church, 23 W. Chestnut Ave., Vineland. Nena will be laid to rest at Sacred Heart Cemetery, Vineland. Family and friends will be received on Thursday evening from 6pm to 9pm at the DeMarco-Luisi Funeral Home, 2755 S. Lincoln Ave., Vineland and again on Friday morning from 9am to 10:15am at the CHURCH.