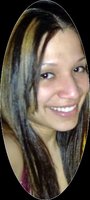 Jessica Maldonado
Jessica "Lyric" Maldonado (38), passed away on Saturday, September 16th, 2017. Born June 27, 1979 in Vineland, NJ to Ruben and Carmen Maldonado. She is survived by her children, Phillip, Cameron, Cadence, and Amina Nevaeh.
Mother arrived from Newcomb hospital a few days later. I bolted for the car, eagerly peering at the back seat but I couldn't make anything of the child. Anticipation.. was keeping me waiting. Back then there were no child safety seats. You held your child tightly in your bosom. Seeing the desperation on my face, mother apologetically says, "I really tried son. But a baby girl came out!"
(Sigh). "It's ok mom" I replied, "we'll keep her!"
We invite family and friends to hear more about Jessica on Saturday, from 2pm to 4pm at the DeMarco-Luisi Funeral Home, 2755 S. Lincoln Ave. Vineland. A Memorial service will be held at 3:30pm.