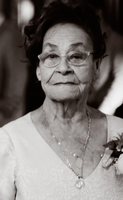 Luz M. Rosario
Luz (Gonzalez) Rosario 90, of Vineland went to be with the Lord on September 18, 2017, surrounded by her family. She was born in Utuado, Puerto Rico on December 19, 1926 to Santiago Gonzalez and Rosa M. Negron.
Luz was a loving and devoted mother, grandmother, and Mima. As the matriarch and backbone of five generations she was known to be a strong and wonderful woman. She had the most generous, loving heart and touched the lives of everyone she met. In her younger years she became a foster mother for the state of NJ and enjoyed babysitting. Luz loved to cook and was known to feed anyone who entered her home with open arms. Along with cooking she enjoyed gardening and singing.
Predeceased by her husband Pedro Rosario and sons George Rosario and Irving Rosario.
She is survived by her loving partner of 26 years, Radames Cruz; sisters, Dalila Gonzalez and Isabella Irizarry; sons, Peter Rosario and Elvis Lopez; daughters, Luz (Lucy) Bass, Santa Margarita (Margie) Osario, and Yvonne Lopez; daughter-in-law, Marion Rosario; grandchildren, Enixa (Steven) Dorfman, Brenda (Robert) Delgado, Chad (Gladys) Merced, Lynnette (Albert) Feliciano, Stephanie (Ken) Foreman; 14 great grandchildren, and 9 great-great grandchildren; and many nieces and nephews.
Peace I leave with you; my peace I give you. I do not give to you as the world gives. Do not let your hearts be troubled and do not be afraid. John 14:27
A Funeral Liturgy will be celebrated on Tuesday at 1pm at Divine Mercy Parish, St. Francis of Assisi Church 23 W Chestnut Ave., Vineland. Luz will be laid to rest at Sacred Heart Cemetery, Vineland. The Family will receive friends and family on Tuesday from 10:00am to 12:00pm at DeMarco- Luisi Funeral Home, 2755 S. Lincoln Ave., Vineland. Memories, thoughts and prayers may be extended to the family by visiting dlfuneral.com.