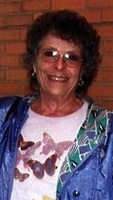 Judith "Judy" Garfole
Judith "Judy" (Giovinazzi) Garfole 77 of Vineland passed away on Sunday, September 24, 2017. Judy was born on July 18, 1940 to Albert "Cookie" and Margaret (Buglio) Giovinazzi. She was a lifelong Vineland resident and a graduate Sacred Heart High School, Class of 1958.
She was a Den Mother for the Cub Scouts and co leader for the Girls Scout Troops both affiliated with Dane Barse School.
Judy was employed for 35 years by the Vineland Board of Education as a teacher's assistant in special needs at the Vineland High School, North for most of those years. She enjoyed the comradery of the staff and loved working for her kids (as she called them). Judy was also a member and officer in the Local Union #2327 UAW.
She was predeceased by her parents and brother, Albert "Al" Giovinazzi. Judy's family was the love of her life, in 1960 she married Petro "Pete" Garfole and had two children, Michael Garfole and Deneen and husband Eddie D'Ottavio and her grandchildren, Nicholas "Nick" and Melissa were the most important people to share her abundant love and kindness.
Judy was an active member of Divine Mercy Parish, St. Francis of Assisi Church, Vineland and enjoyed the friendship of the parishioners there. She was an avid reader and enjoyed writing beautiful, spiritual poems when she was not collecting new recipes and cooking up a storm. Judy loved life and as her friends would say "You always had a good time when you're with Judy".
A Funeral Liturgy will be celebrated on Saturday at 11:30am at Divine Mercy Parish, St. Francis of Assisi Church, 23 W. Chestnut Ave., Vineland. Judy will be laid to rest at Sacred Heart Cemetery, Vineland. Family and friends will be received on Saturday morning from 9am to 11:15am at the CHURCH. Arrangements are by DeMarco-Luisi Funeral Home, 2755 S. Lincoln Ave., Vineland. Donations may be made to St. Jude Children's Research Hospital, 501 St. Jude Place Memphis, TN 38105. Condolences, memories, thoughts and prayers may be extended to the family by visiting dlfuneral.com.