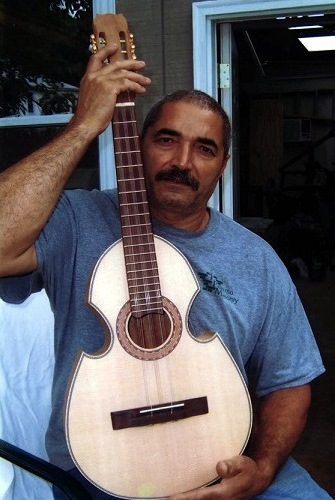 Hipolito "Paul, Polo" Laboy
Hipolito "Paul, Polo" Laboy passed away on Thursday, October 5, 2017 in the comfort of his home. Born in Patillas, PR he left his beloved Island in 1973. He visited a few states before making Vineland, NJ his home.
Paul is a man of many talents and wore many hats! He was employed with Don J. Urie where he did refrigeration for many years. He eventually retired as a Masonary Laborer with Union International Brotherhood of Laborers.
There was nothing Paul couldn't do, and if there was he was going to make his "better best" version.
A green thumb as he loved to garden, a Mechanic as he loved to work on cars, and Artisan, endless creations with wood. His favorite hobby was making beautifully crafted guitars. Engineering, tractors, trailers, lawn mowers, you name it. He made it, or made it better! Musician, not only could he make an instrument, he played it. We could write a book on his talents. His favorite hat of all, father, grandfather, great grandfather, uncle, brother, and devoted loving husband. He loved being surrounded by family and friends. His witty ways and outgoing personality made every gathering to remember. He will always be our gentle giant.
Paul was predeceased by his son, Johnny A. Laboy; parents, Regis and Benita Laboy; 2 sisters and 2 brothers.
He is survived by his wife, Lynette Sanchez-Laboy; his daughters, Betsy Laboy and Margarita Laboy; step son, Jasson Sanchez. Sr; 9 grandchildren, and 3.5 great grandchildren (one on the way). Having 15 brothers and sisters and many nephews and nieces too many to name them all, but all very loved.
Funeral services will be held on Tuesday, October 10, 2017 at 12 noon at DeMarco-Luisi Funeral Home 2755 S. Lincoln Ave., Vineland. Paul will be laid to rest at Siloam Cemetery, Vineland. Family and friends will be received on Tuesday morning from 10am to 12noon at the funeral home. Condolences, memories, thoughts and prayers may be extended to the family by visiting dlfuneral.com.