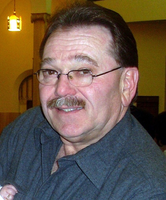 William F. "Bill" Damminger
William "Bill" Damminger age 66, of Millville, passed away suddenly on Sunday, October 15, 2017.
He was born on October 3, 1951 in Woodbury, NJ. He grew up in Clayton and graduated from Clayton High School in 1970. In high school he was a prominent athlete excelling in both football and baseball playing proudly for the Clayton Clippers. He was even looked at by the Philadelphia Phillies his senior year. In his younger years he played baseball/softball for many of the Franklinville/Clayton area teams such as the Cozy Inn and Dutchmill as well as his church league later in life. Bill was involved in many clubs and organizations over the years. He was a member and past president of the Malaga Bear Cats Gun Club, Double Antler Gang Gun Club, Elks Club of Vineland, Capri Swim Club and Jaycees of Vineland. He was also a greeter of Cumberland County Community Church for many years and in recent years attended Calvary Chapel Vineland.
Bill was a passionate Philadelphia fan loving his Phillies and Eagles. There was nothing he loved more than to watch a good Sunday Eagles Football game aside from watching his own grandson play football every Saturday for the Vineland Blitz Taxi Squad. He also loved to go crabbing and deer hunting. Bill has been a hunter since he was a kid. Growing up on his father's flower farm and hunting in the woods with the bird dogs was second nature to him. He loved the woods and everything about it. As an avid hunter, he was the first one in and the last one out! He hunted from rabbits to boar there was never a game he wasn't curious to try. There was never anything Bill couldn't fix. He enjoyed wood working and loved make crafts for use or decorations. Bill always took pride in his garden and yard work. He loved to be outdoors riding his John Deere Mower for a perfectly manicured lawn.
For over 30 years Bill was employed by Vineland Syrup Co. He recently retired which gave him more time to spend with his family. Through the years he was also employed by Alamo, 7up and recently Lilliston Ford.
Bill was predeceased by his parents William and Frances Jane Damminger; one daughter Dena Damminger and one niece Danielle Luisi. Bill will be sadly missed by his wife Carolyn "Jane" (Grant); two daughters Renee' and Dawn Damminger both of Vineland; step children Mahlon Grant (Ashley) Melissa Diaz (Will) both of Millville; three grandchildren Eliseo, Noah and Ava Damminger all of Vineland; two furry babies Abi and Stella any many nieces and nephews.
Friends and Family will be received from 2:00pm to 4:00pm on Sunday, October 22, 2017 followed by a service at DeMarco Luisi Funeral Home 2755 S. Lincoln Ave. Vineland, NJ 08361. Burial will be private. In lieu of flowers donations can be made to Hunt of a Lifetime (P.O Box 241 Harbor Creek PA 16421 memo bill) or Children's Hospital of Philadelphia.