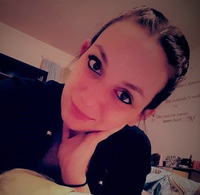 Gabriell M. Laimo
Gabriell M. Laimo, age 27, passed away on Thursday, October 12, 2017.
Born August 11, 1990, she was the daughter of Lisa G. (Galzerano) Laimo and Frank Laimo, Jr. Joining her older sister, Audrey N. Laimo, she also leaves behind her beloved son, Tyler Michael Karis; brother, Franco A. Laimo and numerous friends and family members.
The family would like to extend sincere gratitude for all acts of kindness and support shown during this time of bereavement.
Funeral services will be held on Thursday at 11am at DeMarco-Luisi Funeral Home, 2755 S. Lincoln Ave in Vineland, NJ. Gabriell will be laid to rest at Sacred Heart Cemetery, Vineland. Family and friends will be received on Thursday morning from 10am to 11am at the funeral home. Condolences, memories, thoughts and prayers may be extended to the family by visiting dlfuneral.com.