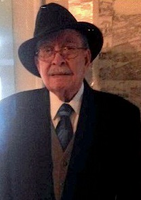 Gilberto Gonzalez Ramos
Gilberto Gonzalez Ramos, 89 of Vineland has left us to meet his heavenly father at his home surrounded by his children and loved ones on Tuesday, October 17, 2017 after extended complications from a stroke.
Born in Rio Grande, Puerto Rico, he moved to the mainland and worked as a presser for years and for the last 5 years he worked for The Vineland Board of Education before his retirement.
He enjoyed watching sports, world news and enjoyed spending time with his family. He was an active member of the Centro Evangelistico Los Hijos de Dios Pentecostal Church in Vineland.
He was predeceased by his wife of 60 years, Matilde Afanador.
Gilberto is survived by his children; Gilbert Gonzalez Jr, Roberto Gonzalez, Wilfred Gonzalez, Elizabeth Burgess and Rigoberto Gonzalez; four grandchildren, Rachel Elizabeth Gonzalez, Amanda Nicole Gonzalez, Mark Joseph Gonzalez and Erin Allesandra Gonzalez; one great-granddaughter, Sophia Grace Gonzalez and several brothers, sisters, nieces and nephews.
Funeral services will be held on Saturday at 11am at DeMarco-Luisi Funeral Home, 2755 S. Lincoln Ave., Vineland. Gilberto will be laid to rest at Sacred Heart Cemetery, Vineland. Family and friends will be received on Friday evening from 6pm to 8pm and again on Saturday morning from 10am to 11am at the funeral home. Memories, thoughts and prayers may be extended to the family by visiting dlfuneral.com.