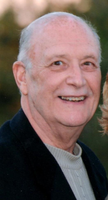 Forrest Todd
Forrest Todd, 76 of Vineland passed away on Friday, October 27, 2017 at Inspira Medical Center after a brief illness, surrounded by his loving family. Forrest was born in York, Pa to the late Charles Todd and the late Lottie (Krout) and step-father, Harry Lauer. He attended West York High School and Penn State University.
After raising his family in Washington Township, Forrest settled in Vineland where he enjoyed building drag racing cars. He was an avid Nascar fan. "Todd" enjoyed golfing, watching all of his sports teams, especially the Eagles. He loved spending time with family and friends, traveling and dining out. Anyone who knew Todd knew he loved his "sweets".
Todd retired from Contractor Sales for electrical distributors, Jones Electric, Franklin Electric, CED and most recently, Ace Electric and Plumbing.
He is survived by his loving wife, Anne (Fisher); daughters, Cindy (Alexis) De Sainte Maresville of Mt. Royal, NJ; Michelle (Jeff) Williams of Woodstown, NJ and Jennifer Todd of Jersey City, NJ. He is also survived by his grandchildren who were his pride and joy; Timothy Williams of Quinton, NJ, Emilie De Sainte Maresville of New York, NY, Samantha Williams of Woodstown, NJ; sister, Joann (Greg) King of York, Pa; brother-in-law, Michael (Barbara) Fisher of Hancock's Bridge, many nieces and nephews and special nephews, James (Lorna), Matthew, and Taylor Counsellor of Quinton, NJ, Bryan (Patricia) Shelby Counsellor of Buckhead, GA and Christina Erbicella (Michael), and Anthony of Royersford, Pa, Ethen and Megan Counsellor of Belfair, WA.
Funeral services will be held on Thursday at 11am at DeMarco-Luisi Funeral Home 2755 S. Lincoln Ave., Vineland. Forrest will be laid to rest at Our Lady of Pompeii Cemetery, East Vineland. Family and friends will be received on Thursday morning from 9am to 11am at the funeral home. In lieu of flowers, donations may be made to the Camden Co. Animal Shelter ccasnj.org (http://ccasnj.org) or a charity of one's choice. Memories, thoughts and prayers may be extended to the family by visiting dlfuneral.com.