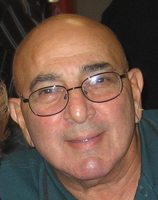 Joseph Trongone
Joseph Trongone, Jr 78 of Fort Pierce, Florida passed away on Saturday, October 28, 2017 at Inspira Medical Center, Vineland. Joey was born in Newfield, NJ on November 12, 1938 to the late Joseph Trongone, Sr and Christine (Gorgo) Trongone.
Joey grew up in Newfield, NJ and honorably served in the United States Marine Corps. Prior to his retirement, he was a member of the Iron Workers Union, owned and operated JT Steel Fabricators, MT Construction in Vineland, and worked at D&E Iron Works in Clayton. He was a member of the Elks Club in Florida and he was most proud of his membership in the Semper Marine Detachment #205.
He loved spending time with his family and friends; helping with fundraising activities at the Semper Marine Detachment and helping those who are less fortunate or in need. Joey was a huge Eagles fan and most of all he loved to make people laugh.
He is predeceased by his brothers, Salvatore and Anthony; his sisters, Rose Chiccheto, Lucy Constantino, Antoinette Grant and Jeannie Farside.
He is survived by his wife, Miriam (Lugo) Trongone; daughter, Doreen Trongone-Ciezki; son-in-law, Richard Ciezki, Jr; son, Michael Trongone and daughter-in-law, Julia (Carr) Trongone; step-daughter, Melissa Santini and her husband Jose Santini; his brother, Robert and sister-in-law, Theresa (Reale) Trongone; sister, Mary (Trongone) Larro; sister, Millie (Trongone) Wiltsey; sister-in-law, Loretta (Martini) Trongone and several nieces and nephews.
Funeral services will be held on Thursday at 7:30pm at DeMarco-Luisi Funeral Home 2755 S. Lincoln Ave., Vineland. Burial will be private. Family and friends will be received on Thursday evening from 6pm to 8pm at the funeral home. In lieu of flowers, contributions may be made to the Semper Marine Detachment #205, 2041 West Landis Avenue, Vineland, NJ 08360. Condolences, memories, thoughts and prayers may be extended to the family by visiting dlfuneral.com.