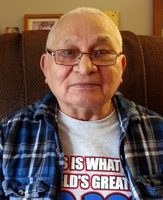 Narciso "Ciso" Vega
Narciso "Ciso" Vega passed away on Monday, October 30, 2017 at the New Jersey Veterans Memorial Home, surrounded by his loving family at the age of 85.
Narciso was born on January 14, 1932 in Guanica, Puerto Rico. He moved to New York City at the age of 14 where he would meet his wife Ana, they married on January 16, 1954. A Veteran of the Korean War, he was drafted into the United States Army and was assigned as a mortar, indirect fire infantryman. These soldiers perform some of the most dangerous jobs in the Army.
The passions of Narciso's life were praising God, devotion to his wife, the love of his children, pride in his grandchildren and extended family, the joy playing music on his guitar in church and for his grandchildren, and finding any and every opportunity to dance.
Narciso is survived by his wife, Ana C. Vega; daughters, Myra Castro and Wanda Valentino; his son, Nelson Vega; 16 grandchildren and 21 great grandchildren whom he loved deeply. He is preceded in death by his parents, Juan and Elvira Vega; daughter, Miriam Arrogoni; son, Patrick Vega and his grandson, Fabian Castro.
A Funeral Liturgy will be held on Saturday, November 4th at 10am at Divine Mercy Parish, 23 W. Chestnut Ave, Vineland, with Father Sigfredo officiating the ceremony. Narciso will be laid to rest at Our Lady of Victories Cemetery in Landisville, NJ. Family and friends will be received on Friday, November 3rd from 6pm to 8pm at the DeMarco-Luisi Funeral Home, 2755 S. Lincoln Ave, Vineland and again on Saturday morning from 9am to 9:45am at the CHURCH. All are welcome to attend and celebrate Narciso's life. Memories, thoughts and prayers may be extended to the family by visiting dlfuneral.com.