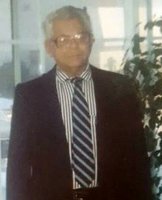 Domingo Velazquez
Domingo Velazquez-Perez, 94 of Vineland passed away on Sunday, October 29, 2017 at Inspira medical Center, Vineland.
Born in Utuado, Puerto Rico, he is survived by his wife of 70 years, Lydia Perez; his oldest daughter, Carmen Velazquez and son, Hector Velazquez; 10 grandchildren and 33 great grandchildren.
He served in the US Army for 6 years which he was very proud of and retired from Blue Coach Foods in Vineland, NJ.
He was a member of Iglesia Adventista Panamericana. Domingo loved to have vegetable gardens and raise chickens. He loved dogs and had a chihuahua named Macho.
Funeral Services will be held on Friday at 10am at DeMarco-Luisi Funeral Home, 2755 S. Lincoln Ave., Vineland. Domingo will be laid to rest at Siloam Cemetery, Vineland. Family and friends will be received on Thursday evening from 6pm to 8pm and again on Friday morning from 9am to 10am at the funeral home.