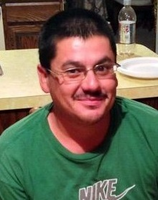 Kevin Juan Carlos Laughlin
Kevin Juan Carlos Laughlin was born October 12, 1977 in Bogota Colombia. He passed away Tuesday morning on October 31, 2017 at 10:30am in Robert Wood Johnson University Medical Center in New Brunswick, New Jersey. Kevin suffered from heart disease that took him far too early.
He is survived by his mother, Dr. Mary Pauline Zelanis-Laughlin and his father, Dr. Kevin Laughlin; six sisters, Mary Marcela Colon (husband Eddie), Pauline Laughlin, Margaret Gibbons-Laughlin, Anna Laughlin, Julia Laughlin, and Sharon Laughlin; five brothers, Robert, Michael, Andrew, John and Joseph.
"Kool Kevin" as he was non-fondly known by his nine nephews and nieces was a true believer in his Catholic faith. He loved basketball, his Duke Blue Devils and the 76ers and of course his Eagles! He played himself until he was injured as a junior in high school.
Kevin worked faithfully and dutifully as a stock clerk and parking lot attendant for 22 years. He loved fine clothes and landscaping his home property. He took many wonderful cruises with his mother and family trips with his sister, Mary. He will be greatly loved and missed by all who knew him!
A Funeral Liturgy will be celebrated on Saturday at 10am at Our Lady of the Blessed Sacrament Parish, St. Michael's Church, 504 West Avenue, Minotola. Burial will be private. Family and friends will be received at the CHURCH on Friday from 6pm to 8pm and again on Saturday from 9am to 9:45am. In Lieu of flowers donations may be made to the Catholic Charities of the Diocese of Camden. Arrangements are by DeMarco-Luisi Funeral Home 2755 S. Lincoln Ave., Vineland.