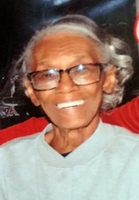 Arabell Handy
Arabell Handy, 84 of Vineland passed away on Tuesday, November 7, 2017 at the Bishop McCarthy Residence, Vineland. Born in Camilla, Georgia, Arabell had moved to New Jersey when she was 16 years old and has been a longtime resident of South Jersey.
Prior to her retirement, Arabell was a nurse's aide for 23 years at Bishop McCarthy Residence in Vineland and was a machine operator for Rennoc. She also was an Avon representative.
Arabell enjoyed watching game shows, going to and selling items at the flea market and loved caring for her grandchildren.
She is predeceased by her parents, Herbert Florence and Eliza Bozman, her son, James E. Handy, Jr., and her former husband, James E. Handy Sr.
Arabell is survived by 6 sons, Dorie Handy, Rashad Ameen Bey, Jonathan Handy, Herbert Handy and Ryan Handy; 3 daughters, Wendy Felton, Mercedes Handy and Tammye Handy Hardwick; many grandchildren and great grandchildren.
Funeral services will be held on Saturday at 10am at DeMarco-Luisi Funeral Home 2755 S. Lincoln Ave., Vineland. Arabell will be laid to rest at Siloam Cemetery, Vineland. Family and friends will be received on Friday evening from 6pm to 8pm and again on Saturday morning from 9am to 10am at the funeral home.