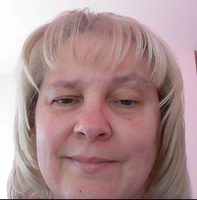 Kathy Lynn Scoble
Kathy L. Scoble, 56 of Millville, NJ went home to be with the Lord after a brief battle with cancer on Wednesday, November 15, 2017 surrounded by her loving family.
Kathy was born on December 28, 1960 in Presque Isle, Maine where she lived for a short period of time before moving to New Jersey with her parents and siblings. Kathy worked at Wheaton Glass in Millville, NJ for over 20 years.
Kathy lived a life dedicated to all of her family and friends, and outside of work she was dedicated to be surrounded by people. Kathy enjoyed going to the beach and interacting with family and friends on social media. Kathy was an active member of Calvary Chapel in Vineland, NJ.
She is survived by her parents, James and Irene Scoble; her siblings, James Scoble, Tina and husband Don Bohren, Debbie Motter (Pete), Bill and wife Andrea Scoble; nephews, Bruce (Jasmine) Bohren, Peter (Chelsea) Bohren, Michael Bohren, Anthony Motter, and niece Elizabeth (Ty) Motter as well as 3 great nephews, 4 great nieces, many aunts, uncles, cousins, and friends.
Kathy was preceded in death by her grandparent's and aunt, Barbara Scoble.
Funeral Services for Kathy will be held on Monday, November 20, 2017 at 11am at Calvary Chapel, 4630 Mays Landing Rd., Vineland. Kathy will be laid to rest at Greenwood Memorial Park, Millville. Family and friends will be received on Monday morning from 10am to 11am at Calvary Chapel. Arrangements are by DeMarco-Luisi Funeral Home, 2755 S. Lincoln Ave., Vineland. Memories, thoughts and prayers may be extended to the family by visiting dlfuneral.com.