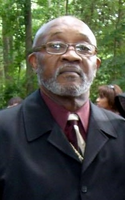 Rufus L. Wright
Rufus L Wright Sr. of Bridgeton NJ passed away peacefully with his family by his side on Sunday, November 19, 2017 at the University of Pennsylvania Hospital. He was born and raised in Bridgeton, NJ.
Rufus went on to serve in the US Army, and later married the love of his life, Sylvia J Lewis. While raising their three sons, he enjoyed going to sporting events and traveling as a family.
After retiring from Venice Maid/Aunt Kitty's Foods, he enjoyed spending time with his grandchildren and enjoyed dining out.
He was a devout man of god, and was a member of the Beulah Tree of Life Commandment Church of Franklinville, NJ.
He will be truly missed by his wife Sylvia; sons, Eric M. Wright Sr. (wife Kenyon), Rufus L. Wright Jr. (wife Maria), and Lamar E. Wright; grandchildren, Eric Jr., Nia, Ignazio and Sofia; his brother, Lawrence Wright Sr. and sister, Catherine Lowery, along with a host of nieces, nephews, cousins and extended family and friends.
He is predeceased by his parents, Thomas and Emma Wright, and brother, Bernard Wright.
A viewing for family and friends will be held on Friday, November 24 from 9am to 11am at DeMarco-Luisi Funeral Home, 2755 S. Lincoln Avenue, Vineland NJ, followed by a service at 11am. Rufus will be laid to rest at Cedar Hill Memorial Park in Hopewell Township, NJ. Memories, thoughts and prayers may be extended to the family by visiting dlfuneral.com.