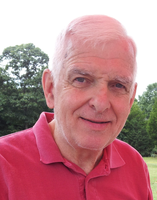 Patrick M. Ryan
Patrick "Mick" Ryan, 74, of Vineland, New Jersey, passed away Thursday, November 23, 2017 from complications of Lewy Body Dementia. He was born in Rochester, New York and remained in the upstate New York area until graduating from high school.
After being discharged from the Army, he graduated from Glassboro State and married Ella, his wife of almost 51 years. He taught and coached soccer at Millville High School until 1984, when he transferred to Camden County Vocational & Technical School. His retirement came shortly after the birth of his only grandchild, Mickey. Pat's retirement was spent doing what he loved: spending time with loved ones, coaching soccer, and helping people.
Pat is survived by his wife, Ella; two daughters, Laura Ryan Quan (Roger), and Brandy Ryan; one grandson, Mickey Tilton; his step-mother, Marjorie Hoffman; three sisters, Patty Ryan, Marcia Sullivan, and Norma Hoffman; three brothers, Bill Ryan (Terry), John Hoffman (Edna), and Gary Hoffman (Beth); and many nieces and nephews.
He was preceded in death by his parents, Giles and Grace Ryan; four brothers, Giles Jr., Wray Ryan, Rodney Ryan, and Bob Hoffman; and two sisters, Elsie (Sue) Lech and Marj Keelan.
A celebration of his life will be held on Saturday, December 2, 2017 at 14 Lenape Drive, Pennsville, NJ 08070. Friends may call from 12:00pm until 6:00 pm. Please be sure to bring your favorite memory or story! Arrangements are by DeMarco-Luisi Funeral Home 2755 S. Lincoln Ave., Vineland. Memories, thoughts and prayers may be extended to the family by visiting dlfuneral.com.