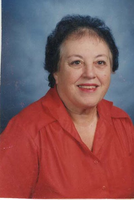 Anna "Annie" Mesiano
Anna "Annie" Mesiano, 89 of Richland, NJ passed away unexpectedly at Genesis Millville Health Center on Friday evening, December 1, 2017. Anna was born in Jamaica, Queens, NY. She was the daughter of the late Joseph Mortifoglio and Anna (Margiatti) Mortifoglio and she was predeceased by her husband, Agostino and 2 brothers, Steve and Sam Mortifoglio.
Anna was a homemaker for most of her natural life and a Head Cook at the St. Augustine Prep School for 17 years. While raising her children, she was an avid bowler, active in the school PTA, a Junior Girl Scout Leader for 5 years and thoroughly enjoyed gardening, sewing, traveling, playing cards, cooking, baking and mostly spending time with family and friends. She was notorious for her homemade ravioli, tortellini and biscotti.
One of Anna's main passion was her love for music, singing and entertaining. During WWII, Anna would visit the Veterans Hospital and entertain the wounded soldiers and in her later years, she loved being a member of the Singing Ambassadors of Vineland for 32 years.
"She was an angel on earth and now an angel in heaven"
Anna is survived by 1 brother, Albert "Sonny" Montifoglio and wife Elaine of Rome, NY; daughters, Denise Homiak (David) and Deborah Perkins (Steven); sons, Rodney Mesiano (Deanna), Mark Mesiano (Teri Birmingham) and Wayne Mesiano (Jill); 6 grandchildren, Jake Homiak (Erin), Gregory and Stephanie Perkins, Fabiana, Drew and Arabella Mesiano; 1 great grandchild, Hannah Homiak and many nieces and nephews.
A Funeral Liturgy will be held on Saturday, December 9, 2017 at 10:30am at Padre Pio Parish, Our Lady of Pompeii Church, 4680 Dante Ave., Vineland. Anna will be laid to rest at St. Mary's Cemetery, East Vineland. Family and friends will be received on Friday evening from 6pm to 9pm and again on Saturday morning from 9am to 10am at DeMarco-Luisi Funeral Home 2755 S. Lincoln Ave., Vineland. Memorial contributions may be made to The Singing Ambassadors, PO Box 504, Vineland, NJ 08362 c/o St. Padre Pio Parish. Memories, thoughts and prayers may be extended to the family by visiting dlfuneral.com.