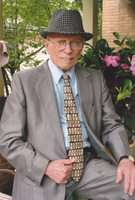 Americo De La Rosa
It is with great sadness that the family of Americo De La Rosa announces his passing after a long illness, on Sunday, December 3, 2017, at the age of 94 years old. Born in Utuado, Puerto Rico on June 5, 1923, he was the youngest of 22 siblings.
There he enjoyed growing up surrounded by the love of his parents, brothers, nephews, cousins, and dear friends. It was there that he was exposed to the beauty of the colorful landscape of wild flowers, rivers and mountains, which inspired his love of music and poetry and he began to write his first songs. He was a man who loved nature, a skillful farmer who dedicated his life to serving God and taking care of his family. He enjoyed spending time with family and friends, talking about our mighty God, reading his bible, praying and singing.
Americo was a longtime resident of Vineland, New Jersey since 1981, and a member of Iglesia De Dios Pentecostal, Vida de Fe.
He will be forever remembered by his wife of 61 years, Juana De La Rosa and his seven children, Gloria De La Rosa, Sofía De La Rosa, Elba De La Rosa, Raúl De La Rosa, Jorge De la Rosa, Maribel De La Rosa, and Neftalí De la Rosa. Americo will also be fondly remembered by his twenty grandchildren, eleven great grandchildren, and his numerous nieces, nephews, extended family and dear friends.
A celebration of his legacy will be held on Friday, December 8, 2017 at 11am at Iglesia De Dios Pentecostal, Vida de Fe, 1115 South Main Road, Vineland N.J. 08360. Americo will be laid to rest at Siloam Cemetery, 550 N. Valley Ave., Vineland. Family and friends will be received on Thursday evening from 6pm to 8pm and again on Friday morning from 10am to 11am at the CHURCH. Arrangements are by DeMarco-Luisi Funeral Home 2755 S. Lincoln Ave., Vineland. Memories, thoughts and prayers may be extended to the family by visiting dlfuneral.com