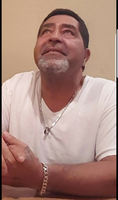 Hector L. Martinez
Hector Luis Martinez of Vineland went home to be with the Lord on December 13, 2017. Hector was born in Barranquitas, Puerto Rico on May 12, 1957 and will be remembered for his calm nature, humble ways, kindness, genorosity, and loving heart.
Hector enjoyed spending his time with his family and friends, he was most passionate and happy when working on his 1979 Camaro, attending Atco Raceway and local car shows with his sons. Hector was a true family man who had an honest heart and enjoyed every minute spent with his loved ones.
Hector is survived by his sons, Hector M. (Cynthia), Orlando, Miquel, and Noel; his mother, Luz Garcia; brothers, Indio, Jose, and Freddy (Carmen); sisters, Carmen (Mikey) and Lucy (Lorenzo). Hector also leaves behind his grandchildren and life's greatest blessing, Orlando, Manuel, Alexis, Jadeliz, Mikaylah, and Victoria, as well as many nieces, nephews, cousins and out of town siblings.
He was predeceased by his father, Angel Luis; brothers, Carlos, Luis, and David as well as his infant son, Christopher. Hector will be deeply missed and remembered by all.
Services are under the care of DeMarco-Luisi Funeral Home, 2755 S. Lincoln Ave., Vineland. Family and Friends will be received on Friday from 11:00am 12:30pm at the funeral home, followed by a funeral service at 12:30pm. Hector will be laid to rest at Sacred Heart Cemetery, Vineland. In lieu of flowers donations may be sent in care of Hector M. Martinez 587 N. Valley Ave., Apt A Vineland, or Orlando Martinez 2831 E. Oak Rd, Vineland.