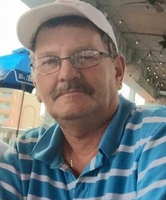 David L. "Peewee" Toddish
David "Peewee" L. Toddish, 72 of Vineland, NJ passed away peacefully at home Saturday morning, December 23, 2017.
David is survived by his loving wife, Sandra; Missy "Pomeranian"; his children, Kimberly and Michael Interlante of Gibbsboro, NJ; David and Leisa Toddish of Millville, NJ; Kimberly Fatale of Cape May, NJ; Leonard and Stefanie Mondile of Mantua, NJ; Angelina Marshall of Vineland, NJ; Phillip Checetto of Saint Pete, Fla.; 12 grandchildren; 3 great grandchildren; his in-laws, James and Cindy Ridgeway of Saint Pete, Fl. and Dorothy and Keith Horton of Seminole, Fla.
David loved spending time with his wife and dog. He liked to go to the casinos and beach to watch the dolphins play. If he wasn't buying scratch off lottery tickets then he could be caught shopping as he enjoyed doing.
Peewee worked for Safeway Freezer Storage, in Vineland, NJ, as Head of Sanitation alongside the Tedesco Family for 46 years. He was loved and will be missed there by many.
Family and friends will be received on Thursday evening, December 28, 2017 from 6pm to 8pm at DeMarco-Luisi Funeral Home, 2755 S. Lincoln Ave., Vineland. Burial will be private. Memories, thoughts and prayers may be extended to the family by visiting dlfuneral.com.