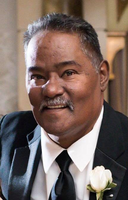 Peter Morales
Peter Morales, 61, beloved husband and father, passed away peacefully on Wednesday, December 27, 2017 at the Inspira Medical Center.
Born on March 7, 1956 to Peter Morales Sr. and Paula Rosario, he lived most of his life in Millville, NJ. Peter will be remembered by his loving wife of 30 years, Haydee Morales, and all his family.
Peter's charismatic personality, sense of humor, passion for music, and passion for God left an impression on everyone he met. He will be greatly missed.
A celebration of Peter Morales life will be held on Friday, December 29, 2017 from 6pm to 8pm with funeral services at 7:30pm at the DeMarco-Luisi Funeral Home, 2755 S. Lincoln Ave, Vineland, NJ 08361. Burial will be private. Memories, thoughts and prayers may be extended to the family by visiting dlfuneral.com.