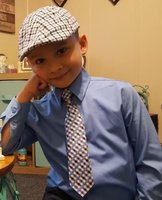 Ezekiel W. Flores
Ezekiel W. Flores of Vineland, New Jersey gained his angel wings and went to be home with the Lord on Wednesday, December 27, 2017 after fighting and winning his battle with DIPG.
Ezekiel was an energetic, fun loving child that could brighten up a room with his smile. Ezekiel loved to spend his time listening to music, cooking in his kitchen and working on his roar along with Kion and the Lion Guard. Ezekiel will be greatly missed but as our little lion would always remind us, Hakuna Matata.
Ezekiel is survived by his parents, William and Madelin Flores; his grandparents, Carlos and Elizabeth Cordero; his siblings, Amandaliz, Natashia, Rubelys, Glorymar, Carmen, Emmanuel Flores and Ramon Torres; many aunts and uncles, cousins, nieces and nephews and many special people in his life.
A Celebration for Ezekiel's life will be held on Wednesday at 11am DeMarco-Luisi Funeral Home, 2755 S. Lincoln Ave., Vineland. Ezekiel will be laid to rest at Siloam Cemetery, Vineland. Family and friends will be received on Tuesday evening from 6pm to 9pm and again on Wednesday morning from 10am to 11am at the funeral home.