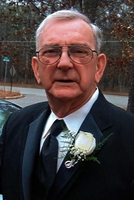 Samuel Asa Ridgeway
Samuel A Ridgeway, 81 of Millville, NJ passed away on December 31, 2017 surrounded by his loving family. Sam was born in Mount Holly, NJ to the late Samuel and Elizabeth Ridgeway. He grew up in Norma, NJ and worked for Kowalsky's Express for many years. After relocating to Louisiana, he drove for Chemical Leaman and Transport Service. Sam was very proud to be recognized for driving over 2,000,000 safe miles as well as getting to travel the country coast to coast.
Sam loved racing stock cars at the Vineland Speedway, Nascar, fishing, bowling, playing pool, and all Philadelphia sports teams. Sam was also involved in the Police Reserves for the City of Millville for many years. He also loved spending time with his 5 children, grandchildren and great grandchildren.
Sam is predeceased by his parents, Sam and Elizabeth, brother, Earl and sister Betty.
He is survived by brother, Carl Ridgeway of Bridgeton and sisters, Dolores and Margaret Ridgeway of FL. Children; a son, Mark Ridgeway and wife Bonnie, daughters, Lisa Lackey and husband Bill, Beth Smith and husband Bill, Nancy Plauche and husband Melvin and Susan Brogen and husband Mark; grandchildren, William Smith, Lori Kuhlen and husband Greg, Christina Lockerd and husband Joe,l Aaron Lackey, Heather Brogen and wife Amy, Mark Brogen Jr., Jeremy Plauche, Danny Plauche and wife Brooke, Amanda Lieblong and husband Trevor and Dylan Plauche; great grandchildren, Amelia and Jak Kuhlen, Madelyn and Charlotte Lockerd and Hallee Brogen.
Family and friends will be received on Friday, January 5, 2018 from 10am – 12pm at the DeMarco-Luisi Funeral Home, 2755 S. Lincoln Ave. Vineland, NJ. A funeral service will be held at 11:30am. Burial will immediately follow at Holy Cross Cemetery in Millville. Memories, thoughts and prayers may be extended to the family by visiting dlfuneral.com.