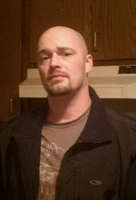 Gary W. Reiser
Gary Reiser Jr. passed away in the afternoon of Wednesday, December 27, 2017 at the age of 44.
Gary is survived by his daughter, Brooklynn Beni; father, Gary Reiser Sr.; siblings, Vicki Reiser, Wesley Reiser and his wife Christina, Tiffany Reiser, Chris Reiser and his wife Amy, and Lynn Lewis; his 10 nieces and nephews, Chris, Eric, Laura, Jordan, Cam'ron, Leanna, Michael, Madelyn, Benjamin, and Zachary.
Gary was predeceased by his mother, Jeanne Harding (Fanning) and grandparents, Wesley Reiser, Inez Reiser and Catherine Keller.
Gary was an accomplished tattoo artist performing hundreds of tattoos over the years. He enjoyed listening to music and wasn't shy about singing along to his favorite songs. He was a funny guy who always made people around him laugh. Gary was a loyal man and valued the importance of family and friends. There was almost nothing he wouldn't do for the people he cared about. He was always energetic and full of life, always the center of attention.
Family and friends are invited to a viewing and service on Sunday afternoon, January 7, 2018 from 1pm to 3pm with a funeral service at 2:30pm at DeMarco-Luisi Funeral Home, 2755 S. Lincoln Ave., Vineland, NJ. Burial will be private. Memories, thoughts and prayers may be extended to the family by visiting dlfuneral.com.