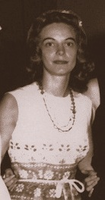 Frances June Lanzi
Frances J. (Davis) Lanzi, of Vineland, passed away on Thursday, January 4, 2018, just shy of her 87th birthday, after a lengthy struggle with Alzheimer's disease.
Born in Birch River, West Virginia, Frances was the daughter of a coal miner, who together with his wife, had ten children. Frances relocated to Vineland as a teenager to find employment at Kimble Glass, where she worked diligently, for 34 years. Frances was a talented gardener, gracing her home and yard, with a wide variety of plants and flowers. She also enjoyed playing pinochle, cooking and baking, traveling, and entertaining large family gatherings during the holidays. During the summer, she and her husband, Tony, hosted many neighborhood barbecues. She was, also, an ardent Dallas Cowboy fan.
Frances is predeceased by her husband, Anthony Sr. and sons, Anthony Jr. and John Lanzi.
She is survived by her daughter, Patricia Lynn Tyszka and son-in-law Stephen, of Corbin City, NJ; five grandchildren, Phillip Whilden of Shavertown, PA, Timothy Whilden of Philadelphia, PA, Natalie and Melanie Whilden of Corbin City, Julianne Lamb of Corbin City, and five great-grandchildren. She is also survived by sisters, Patty Gentilini of Florida, Dreamalee Schaffer and Alice Unger of West Virginia, and a brother, Franklin, also of West Virginia.
Funeral services will be held on Thursday, January 11, 2018 at 11am at the DeMarco-Luisi Funeral Home, 2755 S. Lincoln Ave., Vineland. Frances will be laid to rest at Our Lady of Victories Cemetery, Landisville. Family and friends will be received on Thursday morning from 10am to 11am at the funeral home. In lieu of flowers, contributions may be made to the NJ Veteran's Memorial Home, 524 N.W. Blvd. Vineland, NJ 08360, where the staff took excellent care of Frances for the past year and a half. Memories, thoughts and prayers may be extended to the family by visiting dlfuneral.com.