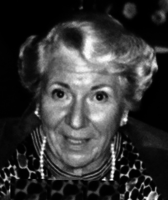 Constance Holden
Constance "Connie" Palma Holden passed away on Wednesday, January 3, 2018. A native of Woonsocket, R.I., she was born on July 11, 1923, to Raffaele and Antoinetta Palma. Upon high school graduation, she attended Pembroke College. Her college experience was interrupted by her enlistment in the United States Naval Reserve (WAVES), serving as a nurse during World War II. At the end of the war, she married and settled with her family in Washington, D.C. and, subsequently, McLean, Va. She demonstrated immense pride in her long-time employment at Georgetown University, working with faculty, staff, and students. Her experience at Georgetown included working with the School of Foreign Service and the Department of History. Upon retirement from Georgetown, she moved to Seminole, Fl., and later to Vineland, N.J.
A woman with many interests, she particularly enjoyed her bridge club and taking trips with her travel group to many parts of the world. Connie was known for her wit, a larger-than-life personality, and her emotional strength.
She was the beloved wife of the late Thomas A. Holden.
Connie is survived by her children, Thomas A. (Lynda), Gregory M. (Jo Ann), Kevin R. and Paul R. (Kim); seven grandchildren, four great-grandchildren and numerous nieces and nephews.
Visitation for family and friends will be at 11 a.m. on Saturday, March 3, 2018, at St. John the Beloved Catholic Church, McLean, Va., followed by a Mass of Christian Burial at 12 p.m. Graveside services will follow at Fairfax Memorial Park, Fairfax, Va. In lieu of flowers, a contribution may be made in her honor to the National Ataxia Foundation, www.ataxia.org. Funeral arrangements are under the direction of DeMarco-Luisi Funeral Home 2755 S. Lincoln Ave., Vineland, NJ.