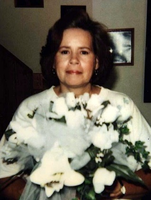 Gloria J. Pierce
Gloria G. Pierce, 70, of Bridgeton went to be with the Lord on Sunday, January 7, 2018. Born in Bronx, New York, Gloria was a lifelong resident of Bridgeton, NJ.
She was employed at Eagle View Nursing Home and the Sands Casino, both in housekeeping.
Gloria is predeceased by 3 brothers, Norman, Eugene and Reginald Forbey and 1 sister, Alice Mitchell.
Survived by 1 son, Melvin D. Brown; 4 daughters, Angela Brown, Constance, Elivea and Trena Pierce; 6 grandchildren, 2 great grandchildren and 2 sisters, Carolyn Bailey and Constance Harris.
Funeral services will be held on Friday at 2pm at DeMarco-Luisi Funeral Home 2755 S. Lincoln Ave., Vineland. Burial will be private. Family and friends will be received on Friday from 1pm to 2pm at the funeral home.