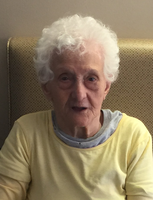 Dora Mercado
Dora Mercado, 94 of Pittsgrove Township, NJ passed away on Saturday, January 13, 2018.
Born in Utuado, Puerto Rico, she was a seamstress for DeRossi Clothing Company for 35 years.
Dora enjoyed cooking, sewing and spending time with her family.
She is predeceased by her husband, Anibal Mercado.
Survived by 2 sons, Jose Mercado (Martha) of Franklinville and Peter Mercado of Egg Harbor Township; 7 grandchildren and 9 great grandchildren.
Funeral services will be held on Thursday, at 11am at DeMarco-Luisi Funeral Home 2755 S. Lincoln Ave., Vineland. Dora will be laid to rest at Sacred Heart Cemetery, Vineland. Family and friends will be received on Thursday morning from 9am to 11am at the funeral home. Memories, thoughts and prayers may be extended to the family by visiting dlfuneral.com.