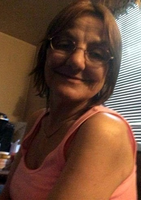 Mary Ann Gomiser
Mary Ann Gomiser passed away on Saturday, January 13, 2018.
Born and raised in Vineland with her parents, Marlene and Walt Majewski along with her 3 sisters and brother.
She worked hard as a waitress through the years and was a strong woman who fought and was loved by all.
Sadly she leaves behind her husband, Rocco; daughter, Amanda and a granddaughter, Gabriella who she adored with all her heart.
She will be greatly missed and never forgotten.
Funeral services will be held on Friday at 2:30pm at DeMarco-Luisi funeral Home 2755 S. Lincoln Ave., Vineland. Burial will be private. Family and friends will be received on Friday from 1pm to 3pm at the funeral home.