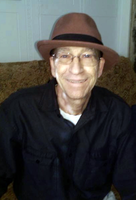 Joseph Orlano
Joseph "Butch, Babba" Orlano, passed away on Monday, January 22, 2018 at home from cancer.
Born in Vineland and raised in Rosenhayn, Joseph graduated from Bridgeton High School.
He owned All Brite Cleaners for over 25 years and also worked as a real estate and insurance agent, but his real passion was music. Starting at the age of 11, Joseph was involved in many bands over the years, playing the east coast from local bars to luxury hotels.
Joseph loved to fish and if he could, he would be on his boat every day.
He is predeceased by his father, Michael Orlano.
Joseph is survived by his mother, Josephine Orlano; his wife, Beverly Orlano; his son, Joseph "JJ" Orlano; 2 grandchildren, Jeremy and Emily Orlano and great grandson, Jacen Orlano; his siblings, Patricia Lowe, Barbara Reed, Michael Orlano, Ronnie McDermott and Darlene Orlano; mother-in-law, Joan Irizarry; brother-in-law, George Irizarry and many nieces and nephews. He will be greatly missed by his 3 cats, Stella, Cuddles and Mario.
Funeral services will be held on Thursday at 6:30pm at the DeMarco-Luisi Funeral Home 2755 S. Lincoln Ave., Vineland. Burial will be private. Family and friends will be received on Thursday evening from 5pm to 7pm at the funeral home. In lieu of flowers, memorial contributions may be sent to the Cumberland Co. S.P.C.A. 1244 N. Delsea Dr. Vineland, NJ 08360. Memories, thoughts and prayers may be extended to the family by visiting dlfuneral.com.