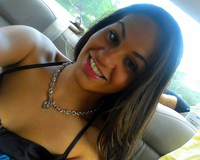 Destiny L. Galafa
Destiny L. Galafa, 22 of Vineland passed away unexpectedly on Friday, January 19, 2018. She was a graduate of Vineland High School, Class of 2013 and currently was a student at Cumberland County College.
Destiny was a young and beautiful mother who loved to spend time with her 6 year old son, whether at sporting events, school functions or just being around family. She was spontaneous, outgoing and had a laugh no one would forget. Her smile would light up a room. She spent her best years with her sisters. As Destiny would always say, "Realest in the room, Loyalty is everything."
She is predeceased by maternal grandparents, Carmen Lydia Colon and Fransico Acevedo and paternal grandfather, Felix Galafa, Sr.
Destiny is survived by her loving son, Yonattan Reynoso, Jr and his father, Yonattan Reynoso, Sr.; her mother, Evelyn Acevedo; her father, Felix Galafa, Jr; paternal grandmother, Sarah Ocasio-Galafa; brother, Jose Ramos and wife Navy; sisters, Jocyline Lopez, Desiree and Desmarie Galafa; nieces, Adrianna Williams and Bella Ramos and many aunts, uncles and cousins.
A Funeral Liturgy will be celebrated on Saturday at 11am at Divine Mercy Parish, St. Francis of Assisi Church, 23 W. Chestnut Ave., Vineland. Destiny will be laid to rest at Sacred Heart Cemetery, Vineland. Family and friends will be received on Friday evening from 6pm to 9pm at DeMarco-Luisi Funeral Home 2755 S. Lincoln Ave., Vineland and again on Saturday morning at the CHURCH from 9am to 10:45am. Memories, thoughts and prayers may be extended to the family by visiting dlfuneral.com.