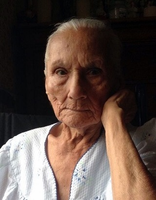 Josefa Matos
Josefa Matos de Villafañe passed away peacefully, surrounded by her family on Tuesday, January 23, 2018. A loving daughter, wife, mother and grandmother, she will be missed dearly and beautifully remembered by many.
Josefa was born on December 1, 1921 in Utuado, Puerto Rico. Daughter of Fruto Matos and Saturnina Vazquez, she was one of many children. She married Neftali Villafañe and gave birth to 14 children. Together they lived farming the land they lived on before moving to New Jersey in 1971.
Her demeanor was unique, humble and quiet by nature, her sweet smile would light up any room she walked into. She will without a doubt be most remembered for the amount of love she shared with her family. While they are many, no one person can say they felt more love than the next. All were equal in her eyes. Even those who were not blood relatives remember her as the woman who made them feel like a part of her family. She was a woman of great faith. A lifelong Catholic, she spent her days going to mass, praying the rosary and helping whoever she could. Her room was always adorned with her favorite pictures of Jesus, the Blessed Mother and relics of the saints she loved most. She loved her garden and tending to her flowers. You often found her listening to her favorite music and clapping gently as she moved her head from side to side. Everything she made was special, whether that was her infamous pot of beans or tiny dresses for the dolls she loved so much. She could never resist a good sweet treat and made sure she shared everything she had with those around her. She was a woman of great character, raising her voice only when necessary and commanding respect whenever she spoke. To many, she was one of the greatest people they had the pleasure of knowing.
She is survived by all 14 of her children, many grandchildren, beloved family members and friends. The family extends their gratitude to all who showed love and support to Josefa throughout her 96 years of life.
Relatives and friends will be received on Thursday, January 25th from 6pm to 9pm at Our Lady of the Blessed Sacrament Parish, St. Michael's Roman Catholic Church, 504 West Ave., Minotola and again on Friday, January 26th from 9am to 10:45am at the CHURCH followed by a funeral mass at 11am. Josefa will be laid to rest at Our Lady of Victories Cemetery, Landisville. Arrangements are by DeMarco-Luisi Funeral Home 2755 S. Lincoln Ave., Vineland. Memories, thoughts and prayers may be extended to the family by visiting dlfuneral.com.