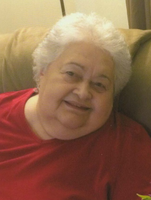 Iris Collazo
Iris Collazo, 80 of Vineland passed away peacefully on Tuesday, January 23, 2018, surrounded by her family. She was born in Utuado, Puerto Rico where she graduated from high school. Iris resided in New York and later in Vineland, NJ for over 40 years.
She worked as a seamstress at several companies and last worked for Rennoc.
She truly lived life to the fullest through the simple pleasures of sewing, shopping, gardening, traveling and most of all, cooking for loved ones. Although her greatest pleasure was spending time with family and friends, she treasured her time with her grandchildren.
Iris was a faithful member of Divine Mercy Parish, St. Francis of Assisi Church, Vineland.
She was predeceased by her parents, 4 brothers and 5 sisters.
Iris will forever be remembered by her husband of 56 years, Antonio Collazo-Morales; her children, Emma Sanchez, Wanda Collazo, Jose Antonio Collazo and Damaris Collazo-Reyes; her grandchildren, Jessica Reyes, Israel Reyes Jr., Lorenzo Reyes, Nashly Collazo and her great granddaughter, Jade Guzman; her brothers, Jose Camilo Maldonado, Jose Jaime Maldonado and Jose Maldonado, Jr.
A Funeral Liturgy will be celebrated on Monday at 11am at Divine Mercy Parish, St. Francis of Assisi Church, 23 W. Chestnut Ave., Vineland. Iris will be laid to rest at Sacred Heart Cemetery, Vineland. Family and friends will be received on Monday morning from 9am to 10:45am at the CHURCH. Arrangements are by DeMarco-Luisi Funeral Home, 2755 S. Lincoln Ave., Vineland. Memories, thoughts and prayers may be extended to the family by visiting dlfuneral.com.