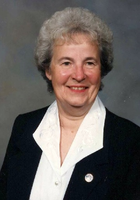 Barbara E. Antonini
Barbara E. Antonini, 92 of Vineland passed away on Monday, January 29, 2018 at the Millville Center, Millville. She was born on February 14, 1925 in Mineola, Long Island, New York.
She was a graduate of Vineland High School, Class of 1942.
Barbara worked at the Cumberland Clothing Co and later at the Vineland Times Journal for almost 29 years as an office manager, retiring in 1987.
She volunteered for the Red Cross Blood Drives and was a member of the Trinity Episcopal Church where she served on Vestry for 2 terms, was vice president of the Women's Group and was a member of the Altar Guild.
She is survived by her son, Albert Antonini; 2 sisters, Caroline Panichello and Margaret Metzger; nieces and nephews, Nicholas Krementz, Sherry Pierro, Paul Krementz, George Krementz, Carol Lugiano, Joseph Metzger and Janice De Graaf; grandchildren and great grandchildren.
Funeral services will be held on Friday at 11am at the DeMarco-Luisi Funeral Home 2755 S. Lincoln Ave., Vineland. Barbara will be laid to rest at Siloam Cemetery, Vineland. Family and friends will be received on Friday morning from 10am to 11am at the funeral home.