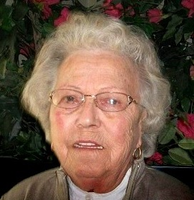 Linda L. O'Rourke
Linda L. O'Rourke, 87 of Vineland passed away on Sunday, February 11, 2018 surrounded by her loving daughter, Carol and son-in-law, Ron. She was born in Malaga where she lived for 18 years before moving to Vineland. She attended Malaga School and was a graduate of Clayton High School, Class of 1948.
Linda was a bus driver for 28 years for the Vineland Board of Education. She enjoyed going to the casino, sewing, computers and traveling with her motor home; as well as cooking and spending time with her grandchildren and great grandchildren.
Linda is predeceased by her grandparents, Fred and Virginia Newsteadt, who raised her after her mother died during child birth; her parents, John and Linda L. Kupsey; a sister, Virginia Ciccio and daughter, Sharon L. Carlile.
She is survived by her daughter, Carol Hunsucker and husband Ron of Vineland; grandson, Vincent Donoflio of Vineland; great granddaughters, Andrea and Gianna Donoflio; Son-In-Law, Bob Carlile of Windfall, IN as well as many nieces and nephews.
Family and friends will be received on Wednesday, February 14, 2018 from 10am to 12pm at the DeMarco-Luisi Funeral Home, 2755 S. Lincoln Ave. Vineland, NJ. Followed by a funeral service at 12pm. Linda will be laid to rest at Siloam Cemetery in Vineland. In lieu of flowers, the family requests donations to be made to the Alzheimer's Association by visiting www.alz.org/donate, or to the family. Memories, thoughts and prayers may be extended to the family by visiting dlfuneral.com.