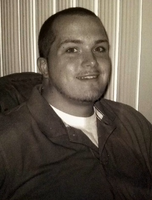 Kyle Frye Logston
Kyle Alexander Frye was 32 years old residing in Millville NJ. Kyle passed away unexpectedly at Inspira Medical Center on Thursday, February 8, 2018.
Kyle grew up in Vineland, NJ graduating in Class of 2003 and was married to his high school sweetheart, Heather McCarty.
Kyle was an amazing soul with the gift of gab and could sell ice to an Eskimo. He made instant friends with anyone he met and they loved him instantly. Words can't describe how amazing he was and he will forever be missed.
He is predeceased by his grandparents, William and Joan Frye; Aunt, Dianne; brother, Shawn and cousin, Cain Hand.
He is survived by his wife, Heather McCarty and their 3 unborn children who he loved dearly; his mother, Kathyrn Frye; brother's, Kristian Frye and Anthony Rivera; sister, Kristy Rivera; nieces, Kristen and Kaley Frye, Lexus Rodriguez and Angelica Rivera; nephew's, Tyler Rodriguez, Ethan Jones and Alexander Bear; Aunts, Uncles, cousins, friends and family.
Services will be held on Thursday, February 15, 2018 at 7:30pm at DeMarco-Luisi Funeral Home, 2755 S. Lincoln Ave., Vineland. Burial will be private. Family and friends will be received on Thursday evening from 6pm to 8pm at the funeral home. In lieu of flowers, donations can be given to Heather McCarty for funeral costs and their unborn children.