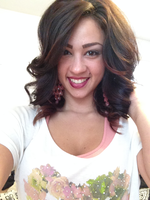 Renee M. Wright
Renee Michelle Wright, 26 of Vineland, NJ, was a beautiful angel who flew away on February 23, 2018. Renee was born on February 16, 1992 to Frank Wright and Anna Maria Bruno. She was the second youngest of eight children. She grew up in Buena, NJ where she played softball for most of her life. She had a deep love for music and enjoyed learning to play the saxophone during her grade school years. She graduated from Buena Regional High School in 2010. After High School, she attended PB Cosmetology School in Gloucester City, NJ. Renee graduated from the Public Service Telecommunications Class #49, in January 2017, and began working dispatch at the New Jersey State Police Department. This was a huge accomplishment in her life and she was extremely proud to be a part of the New Jersey State Police family.
Renee was a gorgeously feisty, determined, talented young woman. She was the life of every party and her energy lit up the world. Her passions included spending time with her loving boyfriend, Anthony R. Venuto, taking care of their fur-babies, Arya and Bella, painting, music- especially Frank Sinatra, shopping, wine, jewelry, taking pictures, baking cookies and spending quality time with her loved ones. She supported everyone that she loved to the fullest extent. She enjoyed spoiling her many nieces and nephews and going out to eat to socialize. Although her time was cut tremendously short, she touched the lives of many people throughout the years.
She is forever loved by her mother and father, Anna Maria and Frank; her boyfriend, Anthony; her Godparents, Cathy Sullivan and Robert Wright; her siblings, Frankie Wright, Franchesca Wright, Antonia Wright, Alysha Farrell, Jerry Farrell, Danielle Hopkins and Kyra Fetrow; her aunt, Cara-Jene Silipena and uncle Rocco Silipena; and her cousin, Carmella Silipena, who was more like a sister to Renee. She also lives on through her 14 nieces and nephews, Seth, Joel, Dominick, Ayden, Julian, Mason, Dominic, Elora, Kadence, Kameron, Isabella, Jersey, Alaila and Gunner; she will also live on in the hearts of many other aunts, uncles, cousins, family members and friends. She is predeceased by her maternal grandmother, Maria Bruno, and her paternal grandparents, Josephine Wright and Robert Wright.
Renee was the most caring, loving, wild-spirited individual. She loved deeply and she laughed loudly. Her smile was contagious and we will always long to see it again. We are so proud of you, Renee. You will live on eternally in the hearts of those you loved and the precious memories that have been created throughout the years.
Funeral Services for Renee will be held on Sunday, March 4, 2018 at 5pm at DeMarco-Luisi Funeral Home 2755 S. Lincoln Ave., Vineland. Family and friends will be received on Sunday from 2pm to 6pm at the funeral home. Renee loved flowers and the family requests beautiful arrangements be sent in lieu of donations. Memories, thoughts and prayers may be extended to the family by visiting dlfuneral.com.