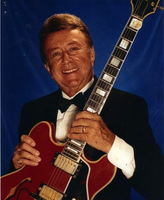 Joseph H, Luisi
Joseph H. Luisi, 96 of Vineland, NJ passed away peacefully on Friday, February 23, 2018 with his loving wife by his side. Joseph was born on October 20, 1921 in Vineland. He was the husband of Lucille (Napoli) Luisi and the son of the late Paul and Catherine (Jefferson) Luisi.
Joseph graduated from Vineland High School, Class of 1939. He accomplished many things in life. He was a singer, guitarist, arranger, actor, professor, artist and songwriter. In 1930, Joseph began his career at the age of 9. Through his early school years, Joe won various awards for singing and acting while touring South Jersey theaters. At the age of 12, Joe started playing with the big bands which lasted for 6 years. While attending Vineland High School, Joe excelled in the 220 yard dash, low hurdles and broad jump tournaments. Joe enjoyed photography and calligraphy as well as other hobbies.
In 1941 he started his glassblowing career at Ace Glass and by 1945 prior to the war being over, Joe was called to service 5 times, but was deferred each time. (He was working on the Manhattan Project-code name for the Atomic Bomb). In 1959, Joe became the first instructor of Scientific Glassblowing. He taught at the Salem County Vocational Institute, which later became Salem County Community College. Joe worked at Ace Glass during the day as he continued his love of music with the Joe Luisi Trio at night.
In 1979, Joe restored the Scientific Glassblowing program at Salem Community College. Thanks to Joe, he helped many people pursue their careers in the art of Scientific Glassblowing. His career in Scientific Glassblowing came to an end in 2000 after nearly 60 years.
Even though his Scientific Glassblowing career concluded, his music career continued. Joe played at several venues locally entertaining thousands as a one man band. He did this until 2013, at the age of 91.
It is unquestioned that Joseph H. Luisi touched thousands of lives with his friendliness, showmanship and his gifted artistic ability. He lived as full of a life as someone could possibly ask for. His spirit and warmth will be missed by many. Friends and family will always love and cherish the time they got to spend with him.
Joe is survived by his loving wife of 44 years, Lucille (Napoli) Luisi; 2 sons, Paul (Lori) Luisi and Carmen (Joan) Vasaturo, Jr; one daughter, Lisa (Joseph) Groves, Jr; 3 grandchildren, Michael (Sarah) Luisi, Jenna (JR.) Gillern and Laura (Frank) Carucci; 5 great grandchildren, Elizabeth and Andrew Luisi, Katherine and Molly Gillern and Loren Carucci. His beloved four legged Bella will miss him the most.
Joseph was an avid Philadelphia fan of all sports, especially football.
Funeral services will be held on Friday, March 2, 2018 at 12noon at DeMarco-Luisi Funeral Home, 2755 S. Lincoln Ave., Vineland. Entombment will follow in the Mausoleum at Sacred Heart Cemetery, Vineland. Family and friends will be received on Friday at the funeral home from 9am to 12noon. In lieu of flowers, donations may be made to the Cumberland County SPCA, 1244 N. Delsea Dr., Vineland, NJ 08360.