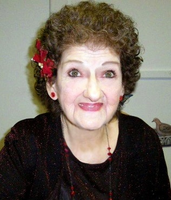 Flora M. Panzino
Flora Marie Panzino (Rovito) passed away peacefully at home on Wednesday, February 21, 2018. She was 95 years old. Flora was born in Kultpmont, Pa and came to Newfield, NJ at the age of 18.
Flora had an excellent work ethic until her mid-eighties which is when she retired. In the 1950's Flora and her husband, Louis owned and operated a luncheonette called The Rondevu on Landis Avenue in Vineland. Flora also worked at Newcomb Hospital as an assistant in the operating room for many years, as a waitress at Sun Ray drugstore and café for several years, and at the Vineland Veterans Memorial Home for over twenty years. After retirement, Flora dedicated her time and energy into her son and daughter-in-laws ministry, God Is The Answer, where she helped them prepare and distribute food to those in need on a continual basis up until her passing.
Flora enjoyed cooking and baking, and she actually had several of her recipes published in nationally recognized magazines and cookbooks. She also enjoyed reading her Bible, exercising, watching Western movies, doing puzzles, word search's, coloring, church events and spending time with her loved ones.
Flora is predeceased by her parents; Samuel and Elizabeth Rovito (Chango); eight siblings; and son, Salvatore (Sammy) Panzino. She is survived by her brother and sister-in-law, Bob and Jackie Rovito; sister-in-law, Antoinette Panzino; daughter, Angelina Andreoli (Panzino); son and daughter-in-law, Rev. Joseph and Beverley Panzino (Brady); daughter-in-law, Helen Pustizzi (Panzino); grandchildren, Nancy Panzino, Barbara Ann (Panzino) and Thomas Gramp, Linda (Panzino) and Dave Cohn, Lisa Ann (Panzino) and James DiNunzio, Laura Ann (Panzino) and Larry Castagnoli, Benny Andreoli, Kathy Ann and Ken Crerend, Pat and Frank Allen; many great-grandchildren, great-great grandchildren and nieces and nephews.
Family and friends will be received on Saturday, March 3, 2018 from 10am to 11am at the
DeMarco-Luisi Funeral Home, 2755 S. Lincoln Ave., Vineland, followed by a funeral service at 11am with her son, Rev. Joe Panzino officiating. Flora will be laid to rest at the Cumberland Co. Veterans Cemetery, Trench Road, Bridgeton, NJ. In remembrance of Flora's giving heart toward those in need, in lieu of flowers, please send donations to, God Is The Answer Ministries, P.O. Box 601, Newfield, NJ 08344. Memories, thoughts and prayers may be extended to the family by visiting dlfuneral.com