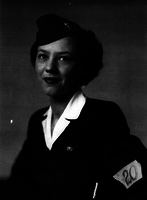 Bernadette Lillian Bogard
Bernadette Lillian Bogard, 92, of Vineland NJ, passed away peacefully on February 23, 2018 at the Bishop McCarthy Nursing Home in Vineland, NJ after an extended illness.
She was born on October 21, 1925 in Boston, MA and moved to Vineland at 18 years of age and later moved to New York City.
Her career skyrocketed as an American Airlines Stewardess where she worked for 25 years, and later as an executive assistant at the United Nations.
Lillian was preceded in death by her loving mother, Stella Murphy; her sister, Mary Nicosia and her husband, Arthur Bogard, who she worshiped.
She is survived by her loving sister and caregiver, Theresa Lenchinsky who resides in Punta Gorda, Florida and her son, Kenneth Bogard who resides in California and was the love of her life. She is also survived by her sister, Olga Abrams who resides in Northern New Jersey.
Kidston Towers in Vineland is the place Bernadette called home and where she had so many friends. God Bless you all for taking such good care of her.
Funeral services are private. Arrangements are by DeMarco-Luisi Funeral Home, 2755 S. Lincoln Ave. Vineland, NJ. In lieu of flowers, the family requests all donations be made to Bishop McCarthy Nursing Home, 1045 E. Chestnut Ave. Vineland, NJ 08360. Memories, thoughts and prayers may be extended to the family by visiting dlfuneral.com.