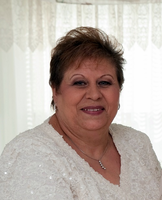 Dimitra Roubies
It is with great sadness that the family of Dimitra Roubies announces her passing on March 1, 2018 at the age of 67.
Dimitra will be forever loved and missed by her loving husband of 47 years, Dimitrios; her children, Vana (George) Manioudakis, Eleftherios, and Ekaterina (Nicholas) Georgiou. She will also be remembered by her two grandchildren, Anna and Dimitri Manioudakis.
The church viewing will be on Wednesday, March 7, 2018 from 10:30am to 12:00pm at St. Anthony's Greek Orthodox Church, 430 W. Wheat Rd., Vineland, followed by a service at 12pm. Dimitra will be laid to rest at Siloam Cemetery, Vineland. Arrangements are by DeMarco-Luisi Funeral Home 2755 S. Lincoln Ave., Vineland.